Ørsted wins Denmark's most prestigious sustainability award
For the first time ever, we won the annual CSR Prize that recognises best practices in sustainability reporting among Denmark's biggest companies.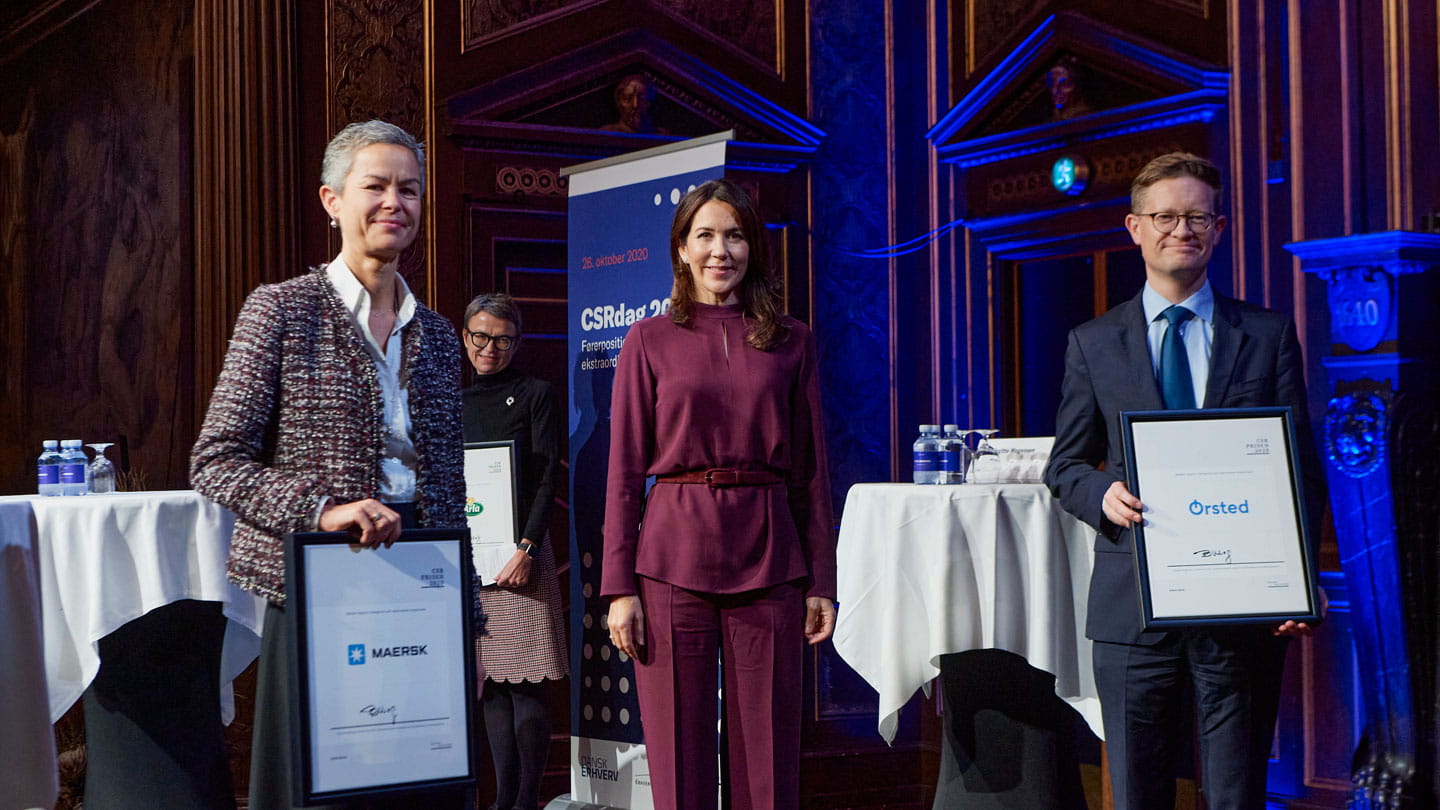 Crown Princess Mary of Denmark (center) presents the Danish CSR Prize 2020 to Ørsted (Credit: FSR)
Ørsted's role in driving the green energy transformation, the company's long-term climate goals and its transparent disclosure to investors were cited by the prize judging committee as reasons for the win.
"Sustainability reporting is a strategic tool for all of Ørsted's work with sustainability," says Jakob Askou Bøss, Senior Vice President for Group Stakeholder Relations at Ørsted. "Within a decade, Ørsted has transformed from one of Denmark's biggest carbon emitters to a global renewable energy player that is ranked as the world's most sustainable company. Our latest Sustainability report lays out a comprehensive science-based plan of action on climate that will make Ørsted carbon neutral in 2025 and net zero across the company's carbon footprint by 2040. We are honoured to receive the CSR Prize."
Denmark's Crown Princess Mary presented the award to Jakob on behalf of Ørsted at a ceremony at the Copenhagen Stock Exchange on 26 October.
Read Ørsted's Sustainability Report: Carbon neutral to stop global warming at 1.5°C
Spotlight on carbon reduction
According to the judges, Ørsted's Sustainability report 2019 is a "comprehensive and consistent account of how Ørsted through its business model is a driving force for the green transformation, supported by its work with sustainability and the UN Sustainable Development Goals."The judges add that Ørsted follows the TCFD recommendations and provides decision-useful information about the impacts of climate change to investors in the report.
The judges highlight how the report unfolds the company's carbon-reduction targets, which are approved by the Science-Based Targets initiative as being in line with what science says is needed to stop global warming at 1.5°C. By stopping use of coal and accelerating the build out of green energy, Ørsted is on track to become carbon neutral in 2025.
About the prize
The CSR Prize is awarded annually by FSR, the industry association for accountancy firms in Denmark. This year, 67 listed and non-listed companies had their sustainability reports assessed, of which seven were nominated for the CSR Prize. Logistics firm A. P. Møller-Maersk was a co-winner of the CSR Prize 2020 alongside Ørsted among listed companies.
Ørsted previously won a recognition from FSR for the company's 2017 annual, ESG and Sustainability Reports.