Our investments in green energy bring tangible benefits to society
Accelerating the transformation from fossil fuels to renewable energy requires significant investments and the investments bring tangible value to the societies that benefit from them. In Ørsted, our investments have helped power millions of people with green energy, fight climate change by displacing energy derived from fossil fuels with green energy, and boost economic growth and job creation.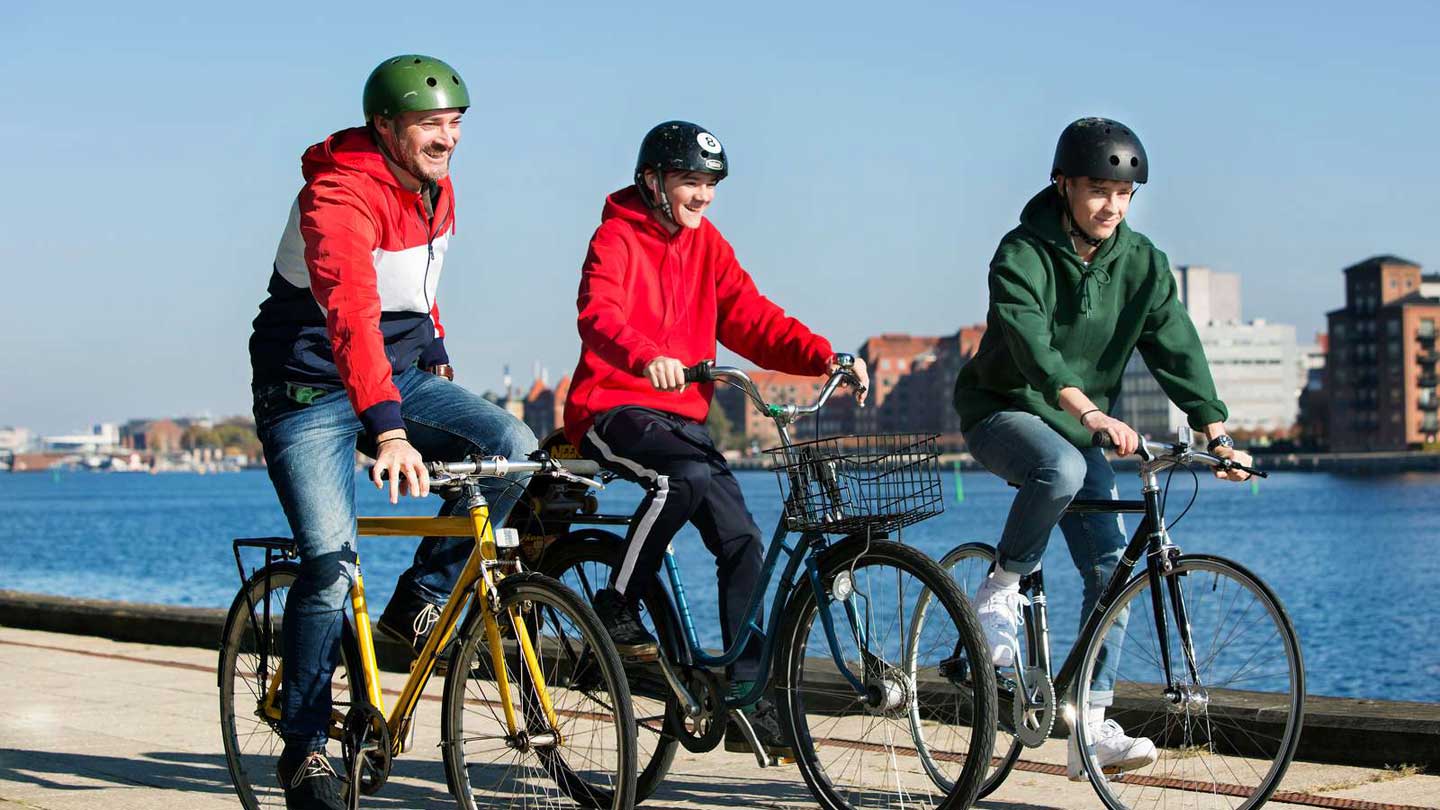 Since our first offshore wind farm was inaugurated in 1991, we have built 29 wind farms with a total capacity of more than 5.6GW. We have three large offshore wind farms under construction, which will add another 3.4GW of installed capacity to our portfolio. Each wind farm we build is a step in transforming our societies to run on green energy.
Over the past decade, we and our partners have invested approx DKK 165 billion in green energy. 90% of these investments have gone into offshore wind, but we have also invested large amounts in phasing out coal from our power stations by converting them to sustainable biomass.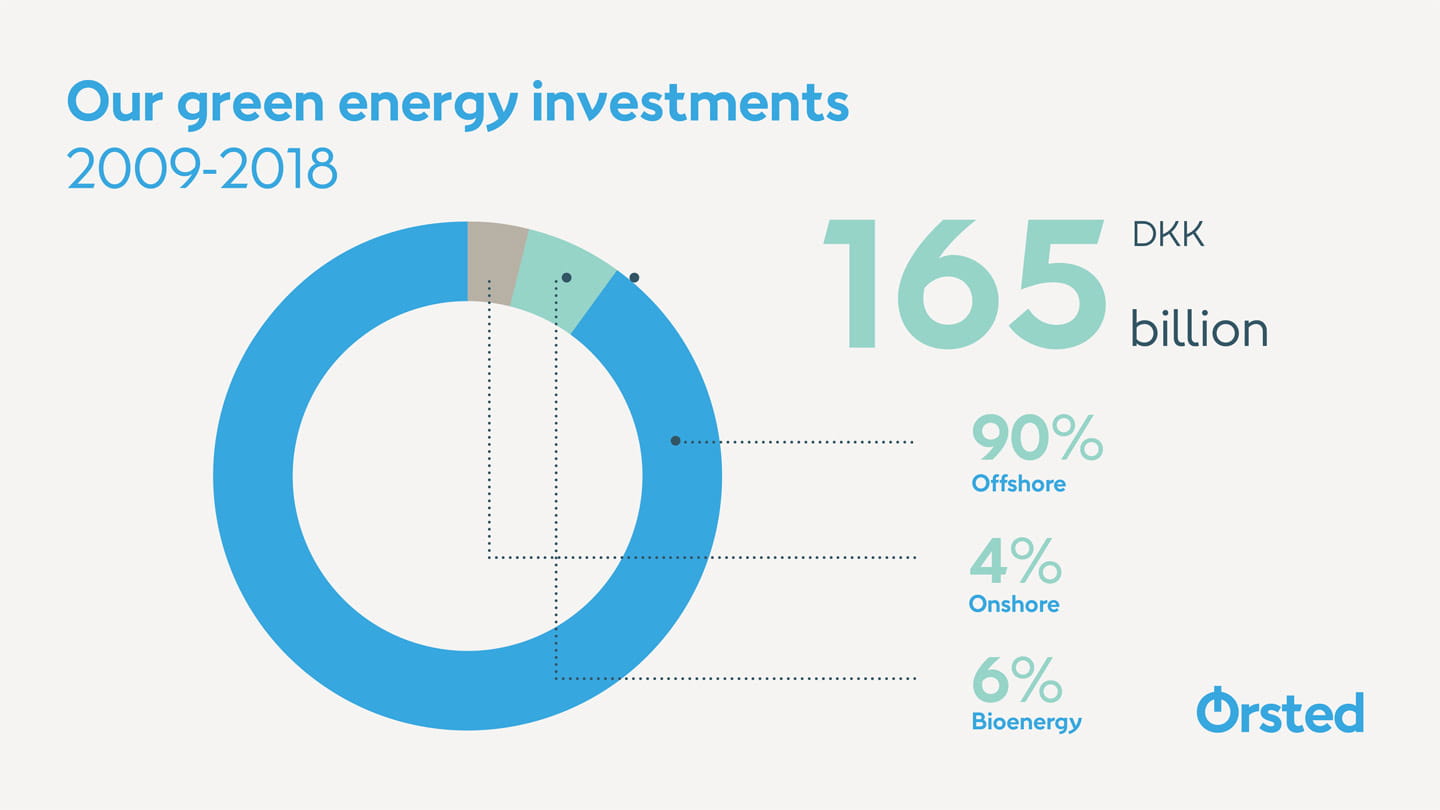 Towards 2025, we expect to invest up to DKK 200 billion in green energy. As the global leader in offshore wind, we will continue to invest 75-85% in building more green energy from offshore wind. But we also aim to spend 15-20% of our investments on realising the potential of our new onshore business. Finally, we aim to spend up to 5% on our Customer Solutions and Bioenergy businesses

The offshore wind farms we have built can provide green power to people whose energy use has previously been based on coal or natural gas. The green energy we provide displaces the carbon emissions that would have come from conventional fossil-based energy generation. Annually, generation of power from our offshore wind farms help avoid the emission of 6.3 million tonnes of CO2, equal to taking more than three million cars off the streets.
Creating socio-economic impact from offshore wind
Our investments in wind farms bring thousands of new job opportunities in our value and supply chain to the benefit of countries and local communities.
In addition to building green energy, politicians, regulators and other stakeholders expect us to create local jobs and economic growth. A good case is in the UK, where we have built 3.2GW of offshore wind capacity, making the country our largest market. Here, we have helped take advantage of the favourable wind and seabed conditions and built the world's largest offshore wind farms off the east and west coasts of the country.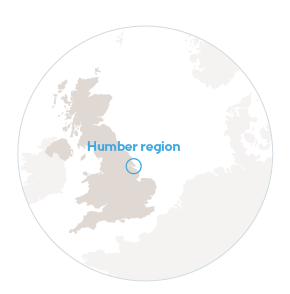 Humber region

The Humber region in the eastern UK is a great example of the impact that the offshore wind industry can have on local communities. The region has become one of the most important global hubs for offshore wind. In 2016, one of our largest suppliers, Siemens Gamesa Renewable Energy, invested approx DKK 1.4 billion to open a large wind turbine blade factory here. The combined investments in the factory and extension of a dock in the harbour of the city of Hull are estimated by Siemens Gamesa to create up to 1,000 jobs, with additional jobs during construction and in the supply chain. In just a few years, our offshore wind activities in the region have contributed to the regeneration of the Humber region, leading to several positive economic impacts, such as more jobs, higher salaries, and local economic growth.
A wind farm is a complex engineering project. It requires labour during the labour-intensive construction and installation of the wind farm, operation and maintenance, and decommissioning, as well as in the supply chain manufacturing its components. Based on the International Renewable Energy Agency's (IRENA) method, we have estimated the job creation from our own and joint partner investments in offshore wind. Our analysis shows that the offshore wind farms we have installed in combination with the offshore wind farms we have under construction create 180,000 job-years in their lifetime. This job effect corresponds to employing more than 21% of the population of Amsterdam for a year or ensuring 5,000 average European citizens life-long employment.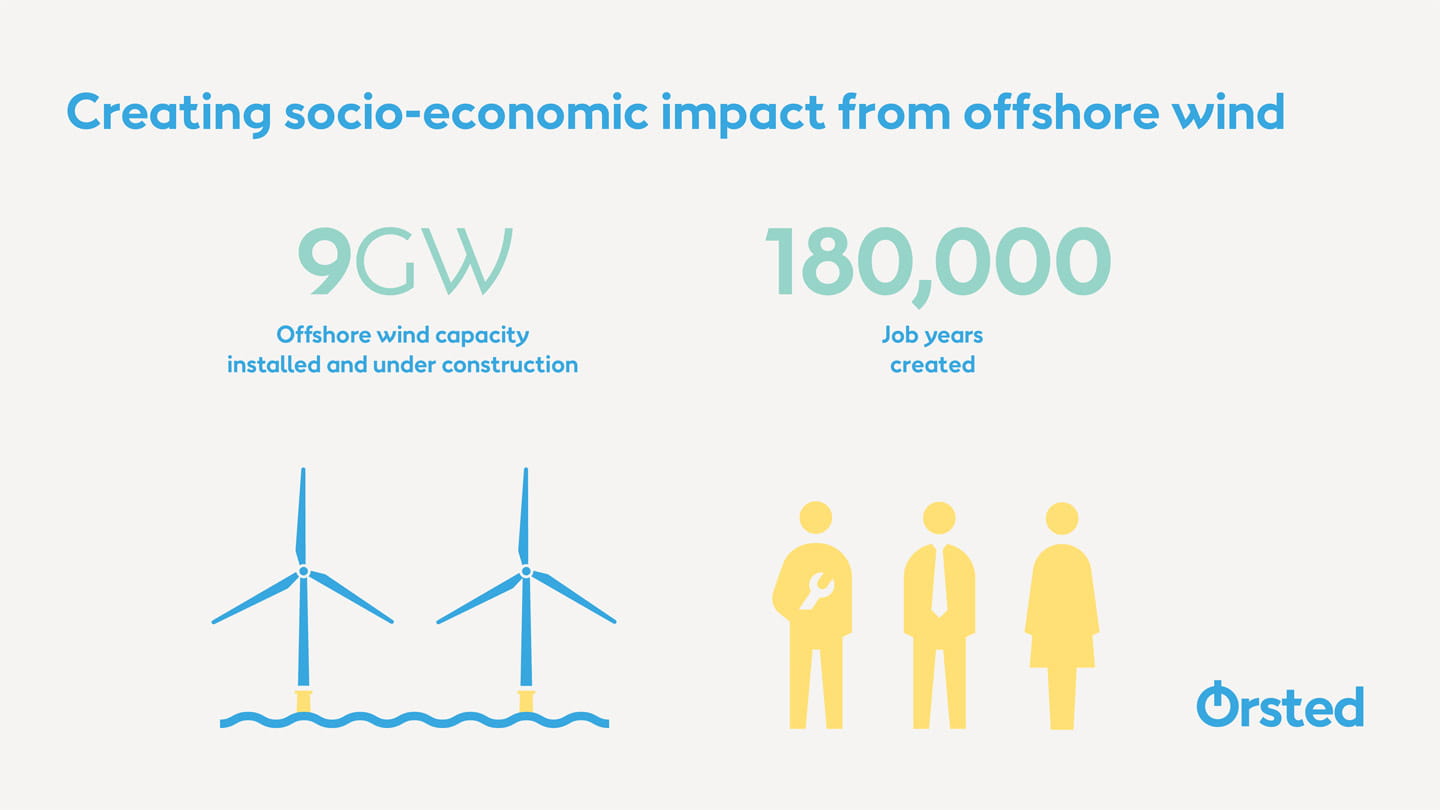 Our analysis only covers jobs directly associated with construction, operation and maintenance, and decommissioning of our offshore wind farms. The job benefits from our wind farms go beyond creating jobs in the wind industry. Every wind farm we build supports several thousand jobs in local communities. The jobs are typically in hotels, restaurants and other services.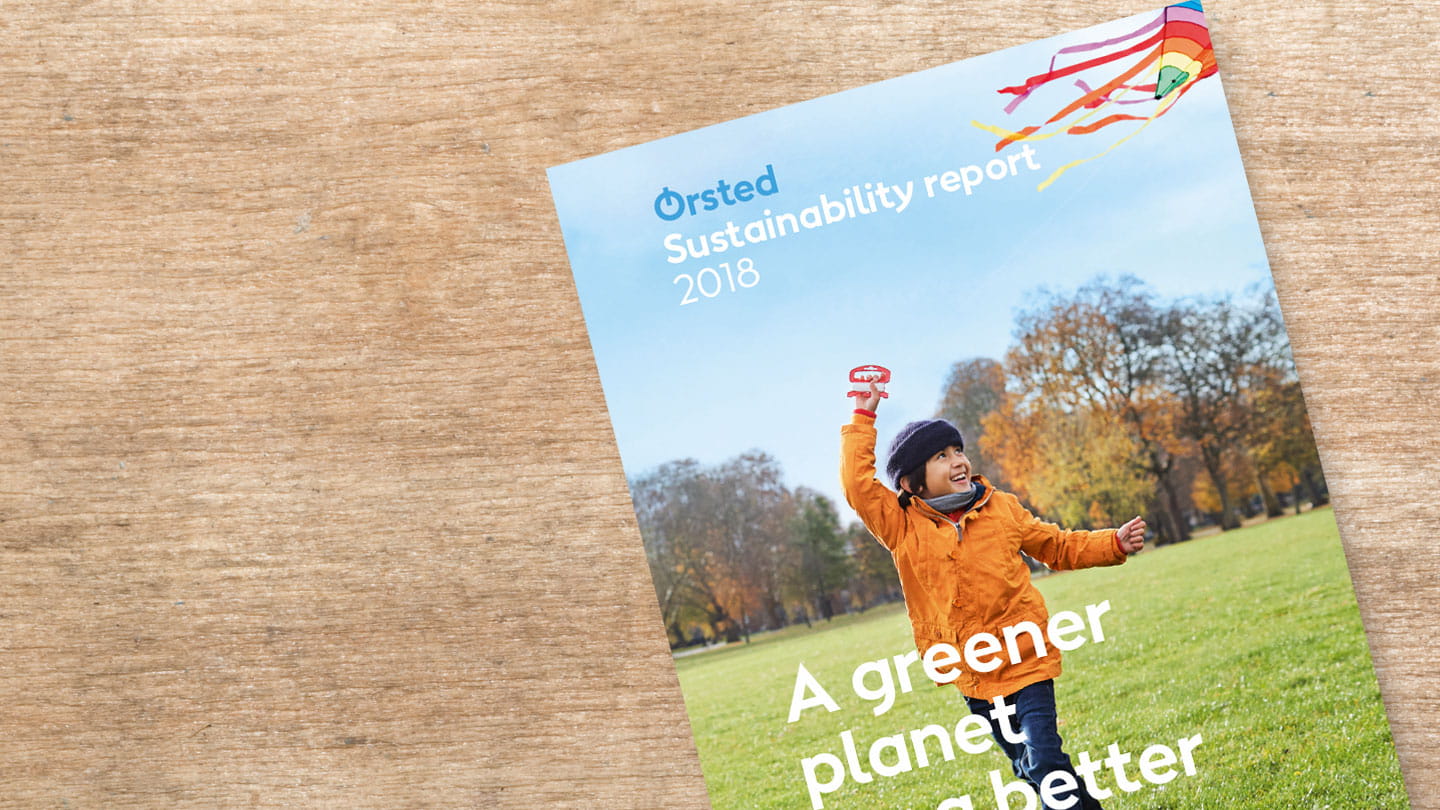 Download and learn more
Read more about our transformation and socio-economic impact from wind power on pages 13-15 in the 2018 sustainability report