Accelerating the global green energy transformation
In Ørsted, we want to help accelerate the transformation away from fossil fuels to green energy. In 2018, we have increased our buildout targets for offshore wind to 15GW by 2025, enough to power more than 30 million people. We have strengthened our presence in the US, where states on the East Coast have set ambitious new green energy targets.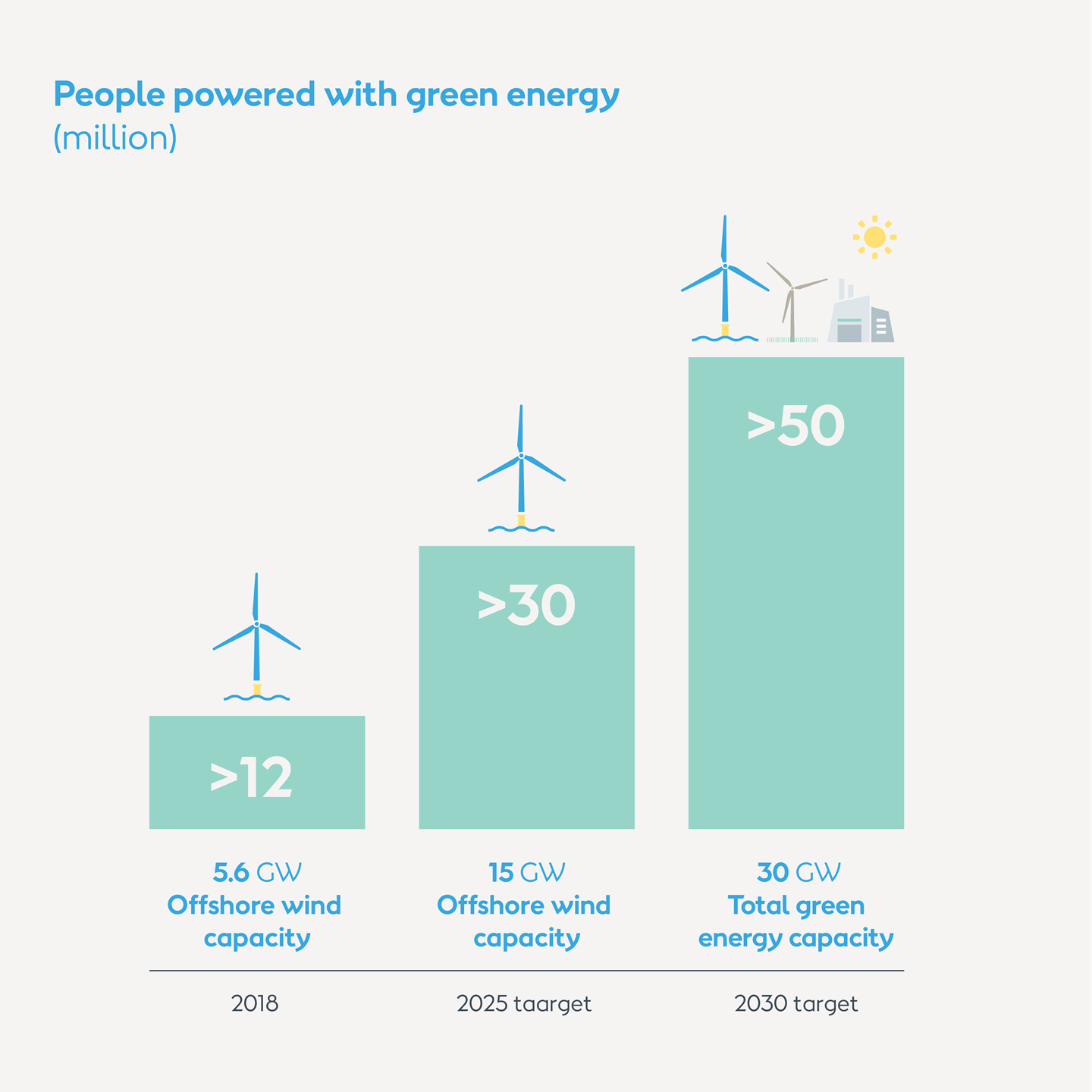 In 2018, we also expanded the scope of our green energy solutions to include onshore wind, solar and storage. As a result, we have set a target for 2030 that comprises all our green energy generating assets, namely offshore wind, onshore wind, solar PV, and biomass fired power stations. Our target is 30GW, which is enough to power more than 50 million people.
Realising our green energy targets depends on our ability to bring offshore wind to global markets. Offshore wind is the fastest growing energy technology globally today. Now, countries outside Europe see an opportunity for making offshore wind a key technology in the transformation of their energy systems from fossil fuels to renewable energy. This will reduce their dependence on fossil fuels and benefit the climate.
Helping bring offshore wind to the US
In the US, most of the energy generation comes from fossil fuels. But highly populated states on the US East Coast, such as Massachusetts, New Jersey, and New York, are shifting away from fossil fuels by setting ambitious renewable energy targets. Offshore wind can help meet these goals.
We have been in the US since 2015 and in 2018, we further strengthened our US activities by acquiring Deepwater Wind. With Deepwater Wind, we have created a leading US offshore wind platform and secured the rights to build approx 950MW offshore wind across projects on the US East Coast by 2023 – enough to provide power to 800,000 people. By merging Deepwater Wind's US East Coast development portfolio with our own, as it stands we now have the potential to build over 6GW of offshore wind across seven states on the US East Coast.
Though building offshore wind in untested markets poses a number of challenges for us. Among the most important is the establishment of an offshore wind supply chain in a short space of time.