Responsible business partners
The green energy build-out impacts many people's lives. To support a just transition, we must ensure that the companies we work with run their businesses and supply chains responsibly.
Why do we have a responsible business partner programme?
We need to ensure that the companies we work with run their businesses free from labour and human rights violations, corruption, and environmental risks, and that adverse impacts on workers, communities, and the natural environment are mitigated.
"
We must protect the environment and all groups of workers and stakeholders in our supply chains, including those that are most vulnerable.
This programme builds on our general human rights due diligence approach. It allows us to collaborate with suppliers and business partners on improving their adherence to our social, environmental, and ethical expectations.
What are we doing?
Our work is based on a systematic due diligence process used to assess partners' and suppliers' adherence to our code of conduct for business partners (CoC).
We include the CoC in all contracts to establish a solid commitment from our business partners and suppliers.
We identify performance gaps through a combination of risk screenings, extended risk screenings, and CoC assessments, either before or after contract signing. These take category and country risks into consideration. Any gaps we identify are followed up by an improvement plan, which is implemented and monitored jointly between Ørsted and our supplier or business partners.
How are we doing?
We've taken several steps to address responsible business conduct and establish commitment from our partners and suppliers.
Risk screenings, extended risk screenings, and CoC assessments conducted on all sourcing contracts above DKK 3 million (number)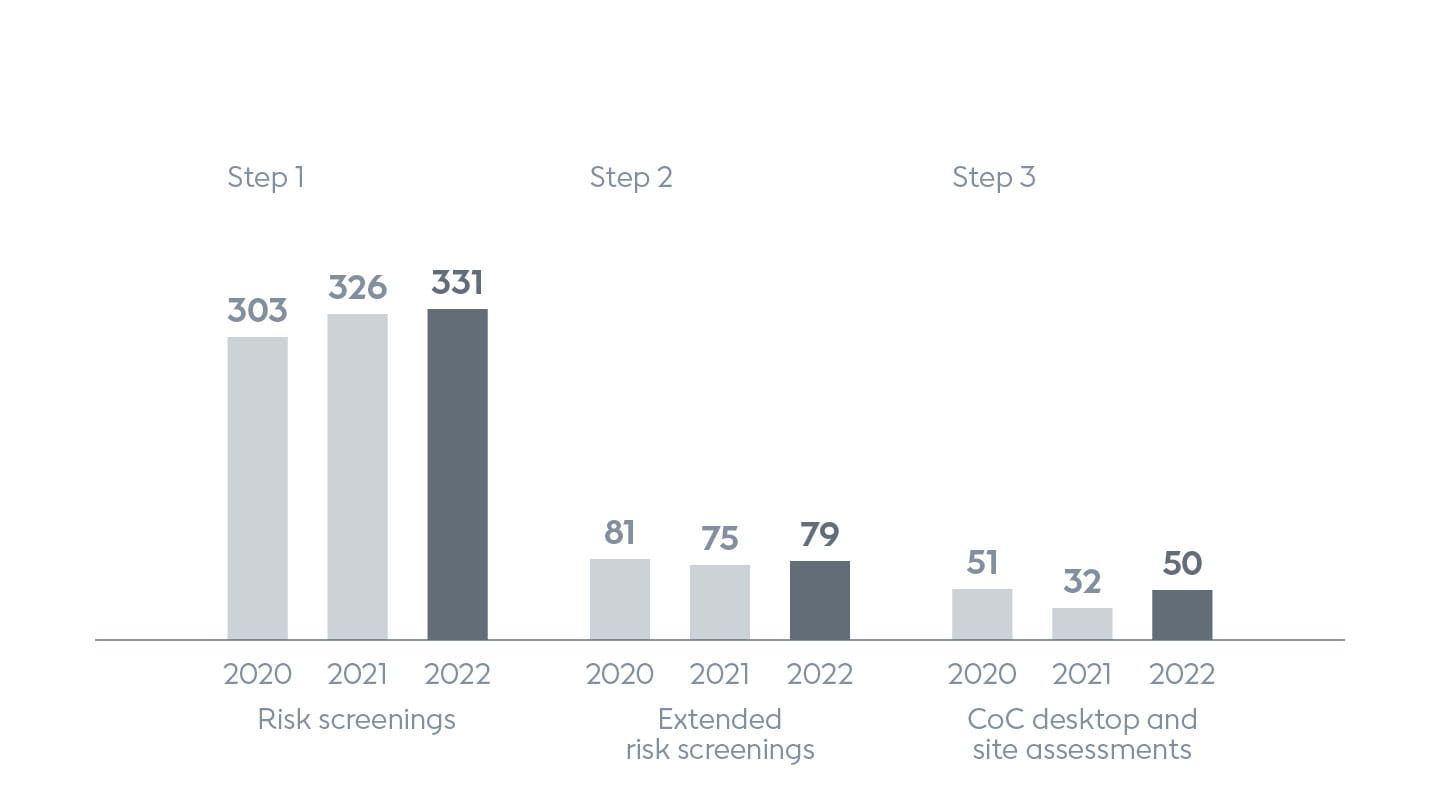 Procurement spend risk-screened (%)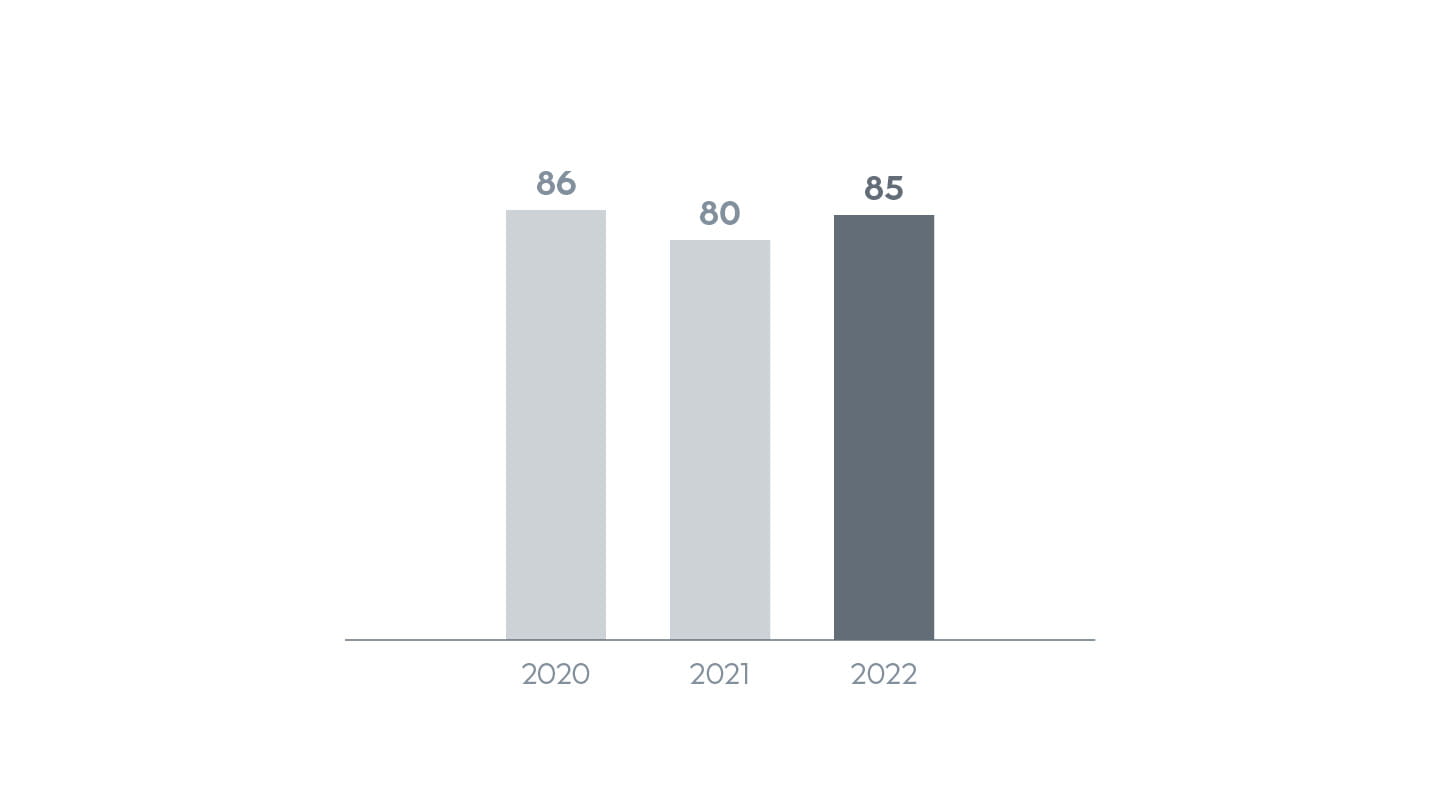 Latest updates from 2022
Together with industry peers, we established local stakeholder dialogues in Singapore to address working conditions for migrant workers, a vulnerable stakeholder group in our supply chain.


We conducted a third-party review of our updated CoC to ensure stronger alignment with external requirements, including the Equator Principles and IFC Performance Standards on Social and Environmental Sustainability.


We engaged in SolarPower Europe's Supply Chain Transparency Working Group to support the further development of the Solar Stewardship Initiative, which seeks to establish a more responsible solar value chain.


We developed a solar sourcing strategy to better mitigate supply chain risks, including key topics in our CoC.


We began implementing our first labour management plan to strengthen responsibilities and labour management during construction of one of our APAC projects.


We developed a pilot approach for social and human rights impact assessments in the project development phase to identify risks early and allow for better engagement with affected rightsholders.
What's next?
We'll continue to strengthen our adherence to the upcoming expectations within the EU's Corporate Sustainability Due Diligence Directive (CSDD), as well as other relevant legislations across our markets, by further improving our due diligence approach, and reporting and communication performance.
We've already started an evaluation of our pre-contract screening principles to strengthen and improve our ability to identify and mitigate relevant risks in all Offshore projects and we have identified the ongoing monitoring of suppliers' adherence to our Code of Conduct during the contract execution phase as an area we want to strengthen.
Finally, our communication on salient issues, related actions, and improvement metrics needs to be strengthened in 2023. This will enable us to better communicate improvement results and
Key information
Partnerships
The Initiative for Responsible Mining Assurance (IRMA) – a leading mining standard that secures more social and environmental responsible mining practices
Ethical Trade Denmark – a Danish multistakeholder initiative that works for more responsible and sustainable supply chains
Wind Europe Sustainability Working Group - wind industry association, actively promoting wind energy across Europe
Solar Power Europe – solar industry association working to promote solar energy in Europe
International frameworks
UN Guiding Principles on Business and Human Rights
OECD Guidelines for Multinational Enterprises
IFC Performance Standards and the Equator Principles
UK Modern Slavery Act and UK Bribery Act
WindEurope Industry Principles
Governance
Accountability lies with our Head of Global Stakeholder Relations, who also chairs our ESG Supplier Due Diligence Steering Committee.
Policies
This programme contributes towards the following Sustainable Development Goals: