We need low emissions steel – here's how we'll get it
Fredrik Åberg, Lead Category Manager, Steel
As a leading offshore wind developer with a science-based target of net-zero emissions across our full value chain by 2040, we're committed to working with our suppliers to cut emissions linked to the production and installation of offshore windfarm components – particularly steel.
Once an offshore wind farm is up and running, it produces zero-emissions electricity. That's the power of wind farms and other sources of renewable energy, and the reason they will play an absolutely central role in reducing greenhouse gas emissions around the world.
At the same time, constructing an offshore wind farm generates what are known as "upstream emissions". These are all emissions related to its production and processing operations. Over fifty percent of those emissions are linked to manufacturing steel – the steel that makes up the foundation (below the waves) and the wind turbine tower (above them) – as this process generates around 1.8 tons of CO2 for every ton of steel that is produced.



So, how do we go about decarbonising steel?
As we see it, there are things we can do in the short- and medium-term while we work towards achieving a long-term goal.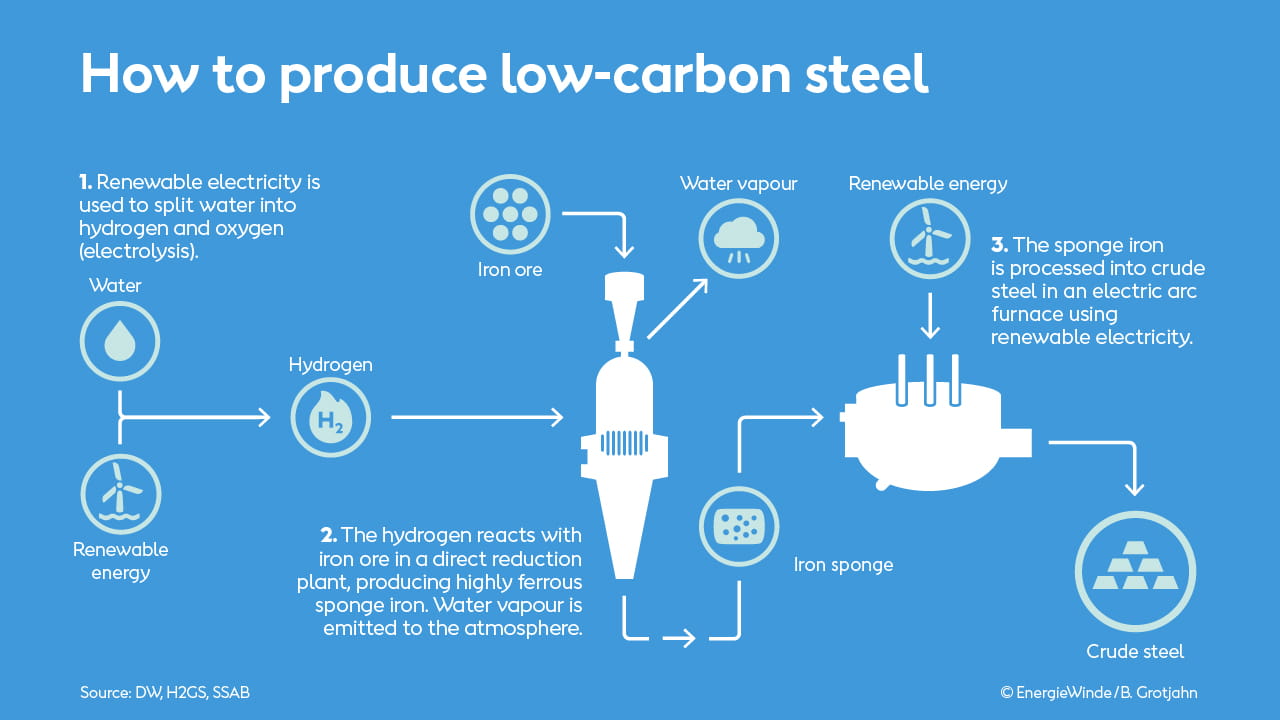 In the short term:
We can make current steel production more efficient. That involves reducing the amount of coking coal used as a reducing agent, replacing it with (for example) natural gas or biomass. We estimate that this, along with other small changes to make production more efficient, can yield up to 20% reductions in CO2 emissions.
Steel producers can switch to electricity from renewable sources to the extent that their operations use electricity.
In the medium term:
We can encourage and accelerate the use of electric arc furnaces in the production of steel. The input material for this method is scrap (recycled) steel, which is a very limited resource at a global level. One way that we at Ørsted can support the overall use of scrap in steel manufacturing is through the responsible decommissioning of our own assets, directing recycled steel back into the circular economy.
The long-term goal is to decarbonise steel production by using green hydrogen, which is produced through electrolysis using renewable electricity, as a reducing agent. This has the potential to nearly eliminate CO2 emissions from steelmaking. While efforts are underway to realise this technology, and it is possible in theory, the process has yet to reach commercial scale.
An important enabler for all these activities is the creation of a shared framework of definitions and standards. It's important for stakeholders to be able to measure and compare different steel products described as "green". This would help suppliers assess the carbon footprint of types of steel and the decarbonisation routes available to different steel production methods, give transparency to customers, and incentivise investments in the lower-carbon technologies we need.
Currently, we don't have this global framework in place. That's one reason why we co-founded the cross-sector initiative SteelZero, through which we collaborate with members like A. P. Moller Maersk, Volvo and Siemens Gamesa to incentivise the continued innovation and development of zero-emission steel. Through SteelZero we are pushing for a global policy framework that ensures transparency and comparability, so that all stakeholders can align on the pathway towards net-zero steelmaking.