Working together for a green future
Would you like to actively shape the energy revolution through your work? At Ørsted, we're breaking new ground every day to create innovative solutions and a world that runs entirely on green energy. Join the most sustainable company in the world.
Since 2005, we've been working on the German energy transition with more than 300 committed colleagues at our locations in Hamburg, Norden-Norddeich, and Berlin. Our focus at Ørsted Germany is not only on offshore wind energy, but also on new, innovative energy solutions for industry and public utilities. Through offshore wind energy, we'll also contribute to the production of green hydrogen in the future.
We've already built four offshore wind farms in the German North Sea – and two more will be added in the next few years. In addition, we're part of the 'West Coast 100' real laboratory, where the production of green hydrogen from offshore wind power is to be tested on an industrial scale. Our aim is to drive forward the transition to a completely new, green energy system to limit climate change. To this end, we're constantly on the lookout for qualified and motivated employees who will work with us to create sustainable solutions for a green future.
Did you know?
At Ørsted everyone is on first-name terms
– from the CEO to the trainees.
Our projects in Germany

Offshore wind power
Our wind farms in the German North Sea already produce enough green electricity to supply around 1.2 million German households each year. By 2025, the planned projects should add 1.3 million more.
Learn more about our offshore wind farms

Energy solutions
With our Corporate Power Purchase Agreements (CPPA) from offshore wind energy, we offer companies tailor-made energy solutions and thus give them the opportunity to become part of the energy transition.
Learn more about our Corporate PPAs

Hydrogen
We're part of the real laboratory 'West Coast 100'. This project aims to produce green hydrogen from offshore wind energy in order to reduce CO2 emissions, particularly in industry.
Learn more about our contribution to green hydrogen

Job satisfaction is our top priority
Our daily work is all about how we can use natural resources sustainably. This applies not only to wind and weather, but also to the energy of our employees. That's why we do everything we can to support our colleagues in any needed area.
Independent work
Appreciative and open communication
Continuous education, learning, and development
Attractive remuneration structure and company pension scheme
Flexible working time models
Drinks and fresh fruit in the office
Discounted memberships in partner gyms
Subsidy for monthly tickets for public transport and bike leasing
Canteen with free daily lunch in Hamburg and Norddeich
Ørsted provides 18 weeks of paid parental leave for the primary caregiver and 12 weeks of paid parental leave for the secondary caregiver
Hamburg

Since 2005, Hamburg has been the seat of Ørsted's German head office. Over 120 employees work in the port city on the development of new offshore wind farms and the management of our existing facilities in the German North Sea. We also develop customised energy solutions for industry and public utilities.
Hamburg is a city with a high quality of life, maritime flair, and a diverse cultural offering. Due to its proximity to the water as well as numerous green spaces and nature reserves, ecological awareness among Hamburg's citizens is very high. For us, this makes the Hanseatic city the ideal location to promote the German energy revolution.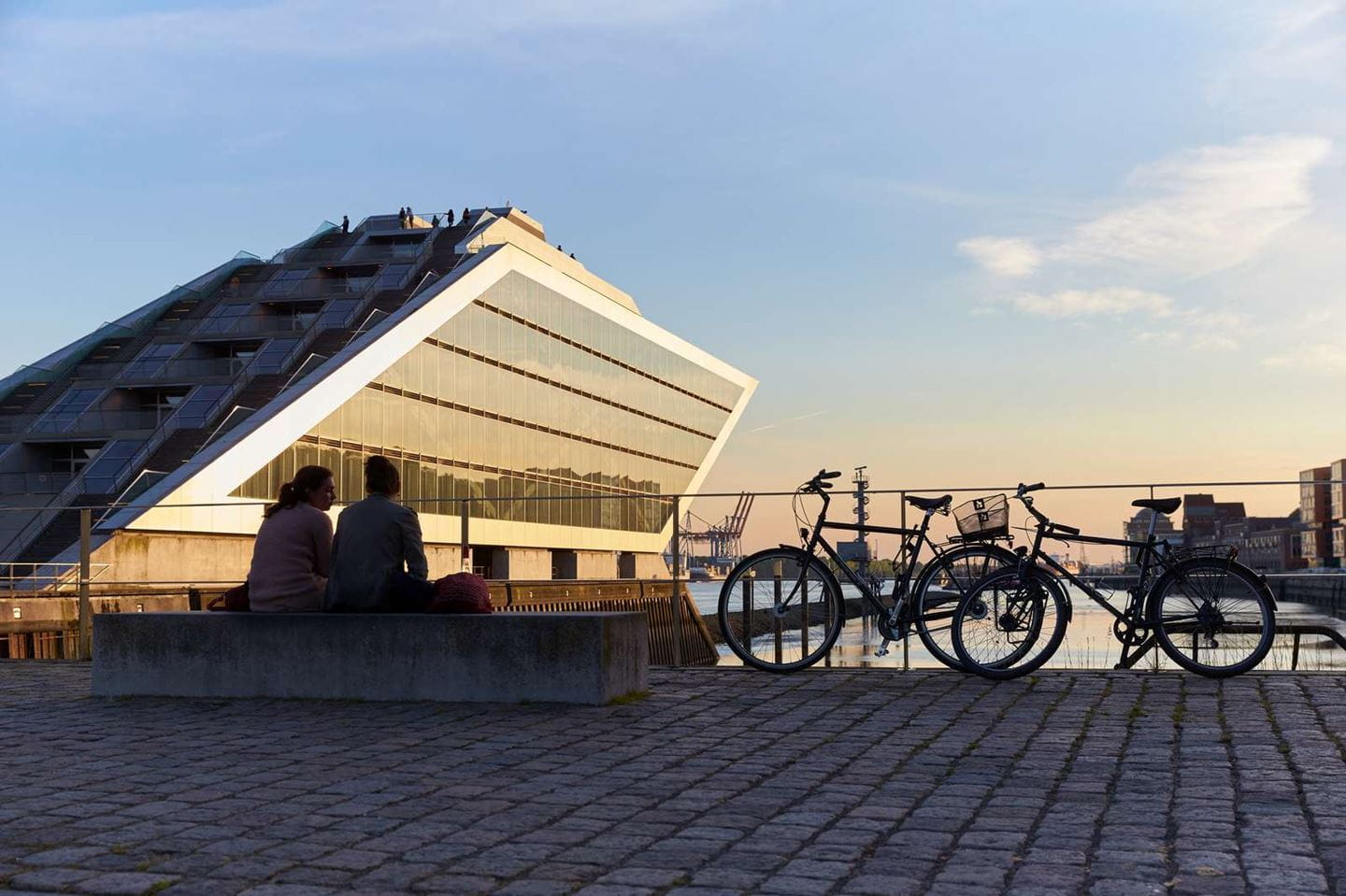 Typical roles


Administration
Engineering and construction
Facilities
Finance and controlling
Human resources
IT and digital
Marketing, branding, and communication
Operations and technicians
Procurement
Public affairs, regulatory, and legal
Sales and energy trading
Strategy and business development

Our office

Located directly by the Elbe, our Hamburg office offers an enviable view over the port of Hamburg. You'll find us situated in Dockland, a modern office building near the former England ferry pier and now the cruise terminal.
With its striking cross-section, the six-storey building not only looks like the bow of a ship protruding over the water, but also has its own landing stage. Our employees can come directly to the office by harbour ferry. Various bus and train lines are also within walking distance.
"I like to cycle to the office in the morning along the Elbe-river. You can tell that our colleagues enjoy working at Ørsted in Hamburg. The modern building, located directly on the waterfront, is a unique workplace. It fits perfectly for our German branch of a Danish offshore pioneer and creates a positive atmosphere that motivates."
— Jan Engelbert: Head of CE Commercial & Asset Management, Hamburg

The canteen offers a wide range of fresh and regional dishes every day. With drinks and fresh fruit in the office, we ensure the well-being of our colleagues, who also benefit from various on-site sports activities and events.
The nearby Hamburg district Altona-Altstadt offers a wide range of gastronomic and cultural activities for lunch or after work. In addition to a large selection of restaurants and cafés as well as theatres, cinemas, and museums, the colourful district is home to numerous independent shops that invite you to stroll and browse.
Norden-Norddeich

For the operational management of our wind farms, we've been based in the Lower Saxony port of Norden-Norddeich since 2013. Here, we're ideally located as a base for our offshore wind farms. The more than 170 employees at our location in East Frisia are service technicians, deployment planners, and other professions directly involved in the maintenance of our turbines.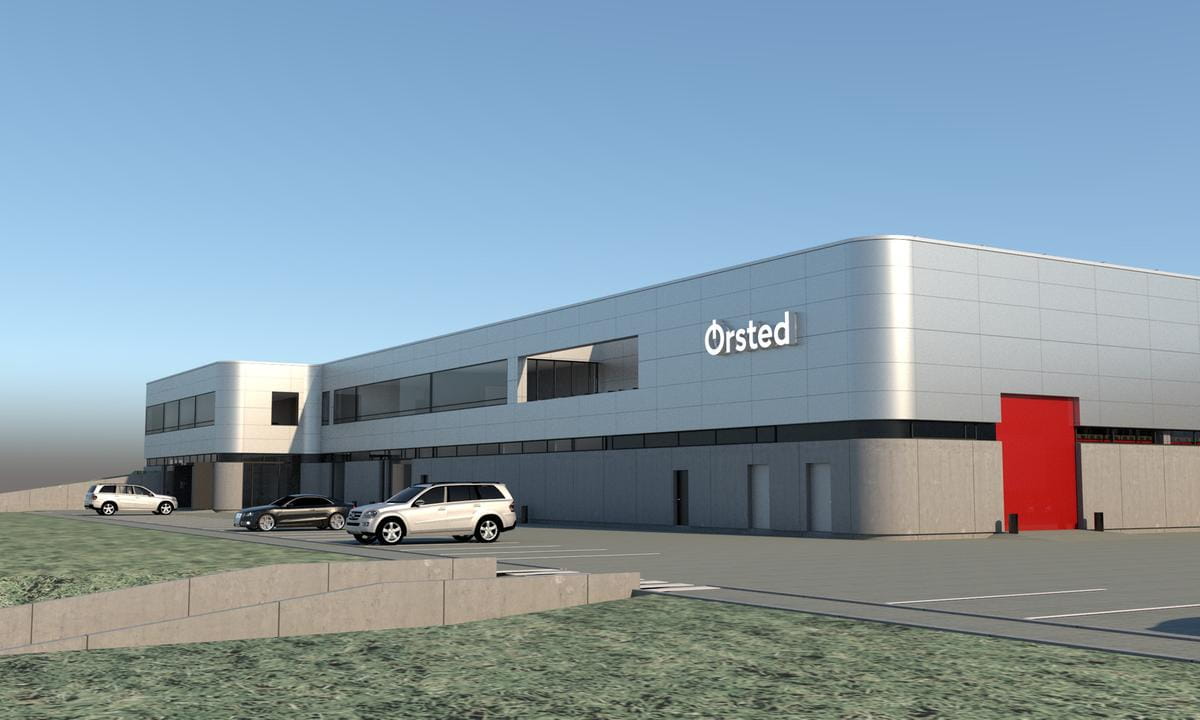 On the high seas, work is done in shifts. Technicians sleep on a well-equipped Service Operation Vessel during the working period. Before they're deployed to the wind farms, our employees go through numerous training courses. After all, their work is physically and mentally demanding – and safety is always our top priority.
As part of the Offshore NETz – an association of companies from the maritime and offshore wind industry operating in Norden-Norddeich – we're committed to creating long-term jobs and thus bringing the positive economic effects of the energy transition to the East Frisia region.

Our engagement in the region
As part of the Community, we feel very close to Norddeich. This is why we've been working in partnership with the town for many years and support various projects. In addition to sponsoring the Ørsted Sommerstaffel Norden, we also cooperate with the Seal Station Norddeich: As part of this cooperation, an 'offshore space' has been created to show what's being done in the construction and operation of the facilities to ensure that no animals are harmed. Learn more about our sponsoring activities!

Typical roles


Administration
Engineering and construction
Human Resources
Operations and technicians

Our office
With our office building in Norddeich, we're demonstrating that we're committed to renewable energies and sustainability, and not only within energy production. The building is heated using geothermal energy, with solar panels providing hot water. The daily lunch is supplied by local caterers.
"Ørsted offers me a wide range of development opportunities and the chance to discover various fields of expertise. We have a lot of freedom to develop and implement ideas ourselves. This is supported by very trusting and solution-oriented collaboration. Who can claim to be on a first-name basis with the CEO?"
— Thijs Schless: Head of Regional Support, Norden-Norddeich

Our office at the harbour in Norddeich is conveniently located for ferries to the East Frisian islands, Norderney and Juist. The picturesque beach is within walking distance, and Norddeich also offers ideal conditions for kite surfers – whether beginners or professionals. We work where others spend their holidays.
Typical roles


Public affairs
Regulatory and legal

Our office
Located in the immediate vicinity of the Reichstag, our office has a great view of the Brandenburg Gate. Public transport is only a few minutes' walk away. Thanks to our central location, we're also surrounded by numerous restaurants and cafés.